Suprema RB-SM501 impact test video by IWA 14-1 7200kg / 80kmh, equal ATSM K12/M50
Zero penetration
Description
ZASP High Security Shallow Mount Suprema Wedge Barrier SM501-1000 provides a high level of security against unauthorized vehicle access, we designed especially for entrance points that have a threat of vehicle attack or for the ones that have high security requirements.
ZASP Suprema RB-SM501-1000 shallow mount features for limiting the depth of the basement compartment and to avoid the main problems of laying in presence of public services, moreover it is possible to install the road blocker on ground level by using a slope. The drive unit is electron-hydraulic, external hydraulic station and controller, typical rising/descend time is 3-5 seconds, in case of emergency, rising/descend time can be as low as 1.5 seconds if hydraulic accumulator added the optional EFO system. If you are interested in our hydraulic wedge barriers, please contact us as soon as possible!
Advantages
1.Dual hydraulic oil cylinders, high stability and durability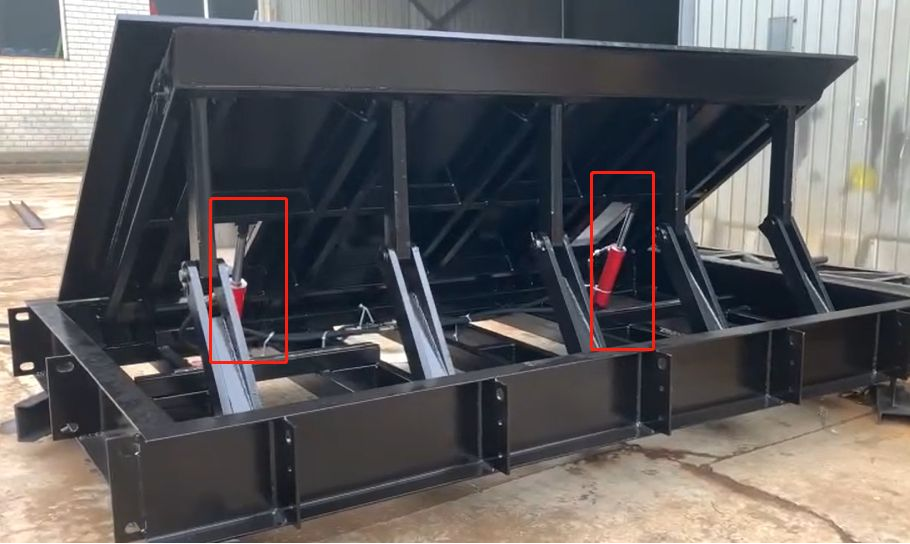 2. Top Plate 25mm(±2) thickness
· National standard high-strength steel for the top plate;
· Heavy rolling without deformation;
· Skid resistance pattern-steel surface;
· Static loading capacity: ≤100 tons
Passing loading capacity: ≤200 tons;
3. Skid resistance pattern-steel surface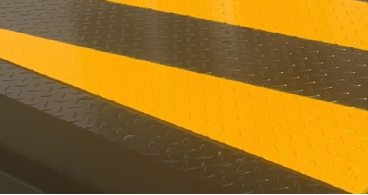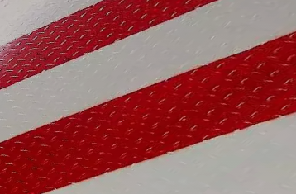 Specification
Dimension
(Intercept width+200mm)L*2000mmW*300mmH(Depth)
Intercept Height
1000mm(±10mm)
Intercept Width
4M with front folding skirt
6M without front folding skirt
Depth
300mm
Top Plate Thickness
25mm(±2mm)
Product Weight
4M-3100KG, 6M-4200KG
Movement Principle
Hydraulic
Rising Time
3~5s
Color
Yellow & Black, RAL color optional
Type Of Use
Intensive
Finish
Special Anti-corrosion treatment(Hot Dip Galavanized+pure
epoxy outfitting primer+polyurethane topcoat),
Black/Yellow or RAL optional
Loading Capacity
Static Loading Capacity: ≤100 Tons
Passing Loading Capacity:≤200 Tons
E.F.O Circuit For Emergency Rising
EFO≤2s,supply 2 times rising in case of power off.
Protection Class
IP68
LED Warning Light
Yes
Device For Manual Handling
Yes
Voltage For Control Unit
200V,triphasic,50HZ
Rated Power
7.5Kw
HPU Dimension
Without Roof:1200Wmm*900Dmm*1700mm;
With Roof:1260Wmm*960Dmm*1797Hmm;
Control System
PLC control,linkage work
Road Blocker Installation
Image for layout of SM501 shallow mount wedge barrier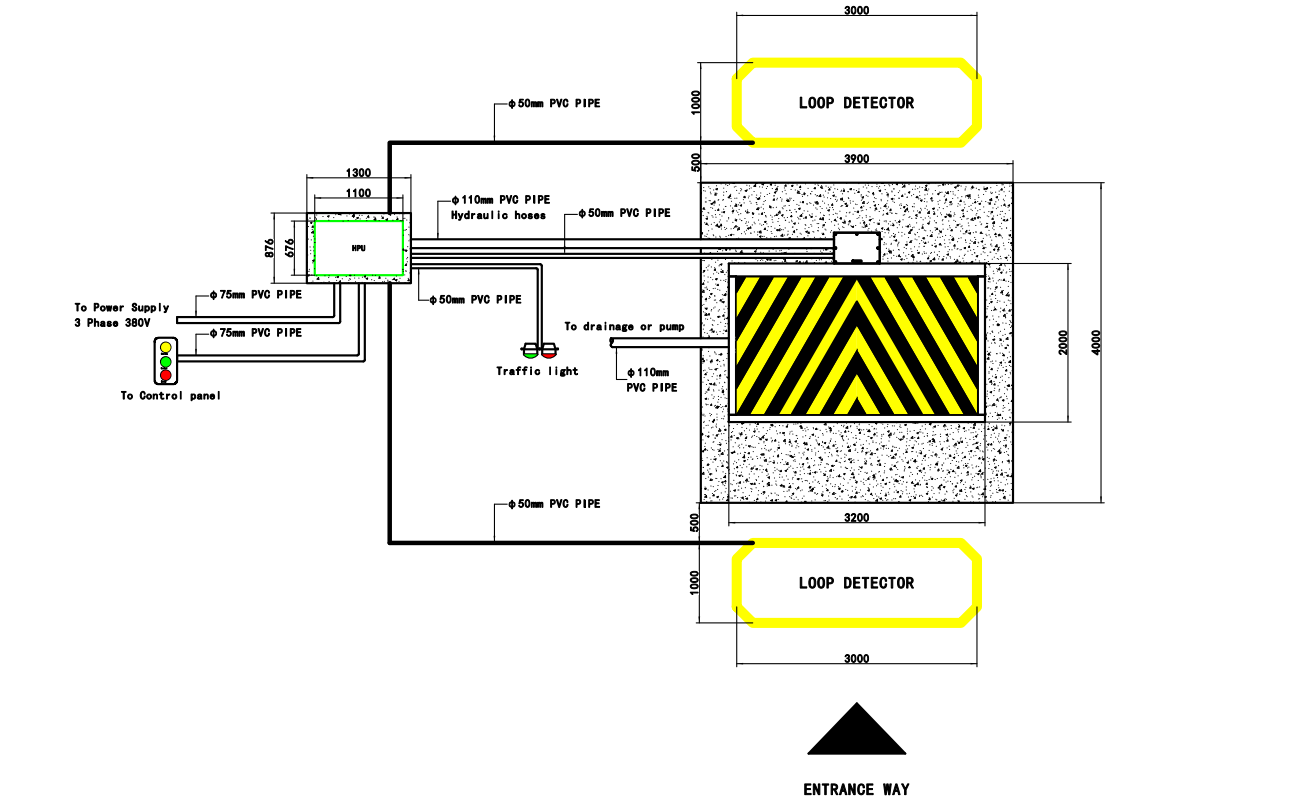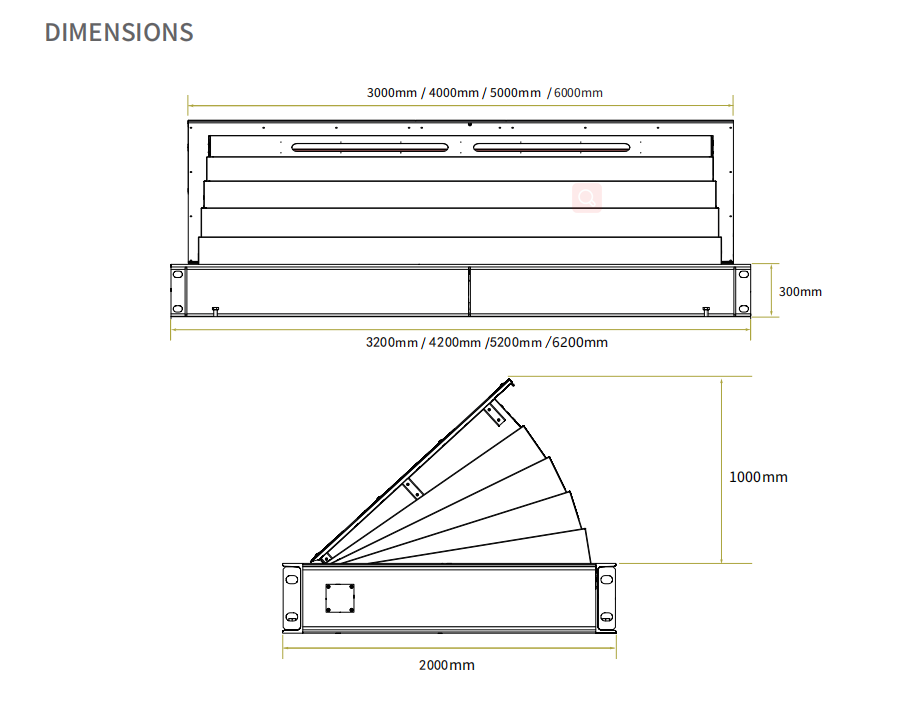 Available Items
Emergency fast raise system
Emergency buttons with lock down
Accumulator systems for hydraulic operation in power failure conditions
Access and intercom systems
UPS backup for the electrical system
Interlocking systems to give air-lock type protection on sites with higher threat levels
Inductive loop systems
Traffic lights and back indications systems
Integral inset warning lights in
A3 steel cover plate with anti-slip coating
E.F.O. emergency start-up circuit (about 1.5 seconds)
Equipment for manual operation
Heat-resistant
Traffic light with two lights (green-red)
Loop inductive detector
Inductive loop
Our products have a wide range of applications, if you want to know more, welcome to click here! Case Studies
We are look forward to working with you!
Are you looking for a reliable and effective way to secure your facility or property? Look no further than hydraulic wedge barriers!
These innovative security barriers are designed to block vehicle access to restricted areas, providing a strong layer of protection for your property. With their durable materials and easy operation, hydraulic wedge barriers are the perfect solution for a variety of settings, including parking lots, government buildings, and military bases. Protect your property and keep your peace of mind with hydraulic wedge barriers.
Beijing ZhuoAoShiPeng Technology Co., Ltd was established in 2009, which is professional manufacturer of Hostile Vehicle Mitigation roadway safety barrier equipment, the R&D and the operation office is situated in Fengtai District of Beijing. Warmly welcome new and old customers to visit and patronize! Come and contact us!